Title :
Uncomfortable (
welcome
)
Author :
Pierre
Rating :
PG
Genre :
Drama
Word Count :
~ 950
Beta-testing :
Mamaboo
A/N :
Written for the Moodathon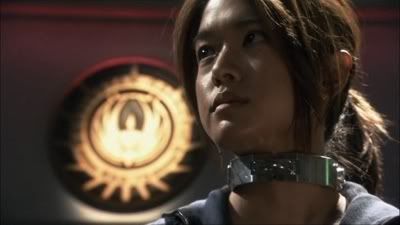 Uncomfortable (

welcome

)
Please follow me.
How am I supposed to walk like this? Chained and kept on a leash like an animal, or worse, a Cylon. Plus this ridiculous number of guards, to save the humans from me? And not the other way? Because not so long ago, this whole pack wasn't enough to protect the other Sharon. Did she see her death coming? Did she examine the faces passing by, while she was dragged through endless corridors, like me? This girl ... this woman ... this blond haired boy, who acts as if he recognizes me ... Should I expect more than hostility from them?
Chief loved me... Boomer, but he wasn't able to prevent her murder. Helo loves me, but he isn't allowed to be with me now. I remember his worried expression and his black eye. He said they fought because of
me
? Strong as he is, Galen could have killed his opponent, if he had wanted to. His suffering must drive him insane. I absolutely need to speak with him. To help him. And to learn exactly what happened
that
day and how, when he saw my Sister dying, shot by Cally right before his eyes. I
owe
that to Chief. And, it's so weird, I have
these
memories of him...
Frak! What am I doing? I should have more important and urgent things in mind. A last turn. We have arrived. The door opens. I am in the CIC. And everyone is staring at me.
Again
.
Ensign Valerii?


Commander Adama.
It's an honor to finally meet you, Sir.
I want to help you, really, you have to believe me. Besides, I have no other choice, given those I already made. It seems I'm a liability now, for my people. After my - humans would call it "treason", Cylons, well, honestly I don't know, so let's say -
decision
, I shouldn't feel disappointed or even - how ironic -
betrayed
, no?
You are from Aerelon?
Colonel Tigh.
Yes, Sir. After my entire family died in the Troy accident, I went on the main planet ... that's okay Sir, I assure you, it was a long time ago.
Why do you look at me like this? I can understand Adama's reaction, but
you
weren't shot... Oh my God, what did you do to
her
?
Stop. Don't show them your fear.
Okay. Doctor Baltar.
A scientist. Someone new. Last time I made my first appearance in the CIC, he wasn't present. So he couldn't bring his ghost with him today. Strangely, he doesn't look as disgusted as the others. Instead, he seems to try to stop thinking, as if I had the ability to read his mind. Does he have something to hide? Or is it just because he's frightened of the situation? Maybe he did bring a ghost, a different kind. I'm not seeing him or her.
Enough. Next.
I am the guiding voice who will lead you home and ensure that you have landed safely, you see.


Dee.
Well, if I may, Petty Officer, I fear the noise will inform you of that even before my final radio transmission
.
I sense a particularly intense distrust in these green eyes. It wasn't me, Dee. It wasn't me. I'm not a copy.
Did someone already show you your quarters?
I just can't forget the hate and the anger in his eyes when he came into my cell. I almost didn't manage to make him listen to me. I'm Sharon, but a different one.
We are a family, Ensign. If there is anything, promise me that you won't hesitate. My door is always open.


I really should concentrate on the present. The virus. The Cylon fleet. The way I can disable the first and stop the second. I've already reviewed the whole process in my mind. First I need an interface.
As the Tactical Officer, my duty is also to manage critical elements of the ship, as its FTL, weapons and computer systems. Welcome, Lieutenant.


Felix.
That's a bit premature, but thank you, Sir
.
Always kind. Always caring for others.
You should let the nav-comp do its job and trust it, Sharon. You can't calculate that fast. You don't think you can plot a jump totally by your own, do you? So, let the systems guide you for the approach and the landing, in the same way. You aren't a machine, you know?

That was a good one, Felix. What I intend to do will surprise you.
Now.
Will you hand me the smallest size when I will ask for the optic cable, Mr. Gaeta? I won't have the time to explain. I'm not sure if it will work, but it's our only chance. Must the datastream go through my hand to mimic a data-font and trigger the reaction, or would an easier and less painful entry point be enough? I can't risk a failure, so I'll have to roll the hard six.
Don't faint, or we are all dead. You - pathetic little Eight in love with a human - , Helo, your unborn child - God, I hope this won't put
her
in danger, I already nearly lost her once - , everyone. Your family. Forget what you thought earlier, Sharon, show your fear if you can't do otherwise, moan and scream, but don't faint.
I guess that covers it. I can feel their impatience emerging behind their hostile faces. We will need to work quickly, and together. Heavenly Father, give me... no. I will succeed. Let's do this. Karl, I love you.
Could I be freed from my shackles, please?
Welcome aboard the
Galactica,
Ensign Valerii!
Welcome back, Cylon Sharon!